Welcome to Our Practice
"Striving for Excellence in Healthcare One Foot at a Time!"
As Podiatric Surgeons we treat a wide variety of common podiatric maladies, such as structural conditions including bunions, hammertoes, flat feet, heel pain, neuromas , nail fungus, bone spurs, nerve reconstruction, Foot Pain, Plantar Fasciitis, diabetic foot issues and arthritis. We also specialize in treating trauma-induced injuries such as ligament tears, achilles tendonitis, ankle sprains, fractures of the foot and ankle and injuries associated with professional and recreational sports. Another area of expertise is treatment of congenital conditions in children. As foot & ankle surgeons, these are only a few of the many lower extremity maladies that we treat. As foot specialists we have helped over 70,000 patients and performed over 10,000 surgeries. Visit our reviews to see why our patients say we are the best podiatrist (foot doctor) in Central Florida!
Central Florida Foot and Ankle Center, LLC is proud to announce that we have introduced regenerative medicine into our practice. Please take your time to acquaint yourself with the scope of our practice.
---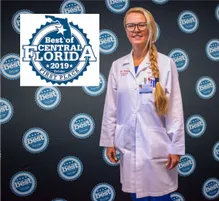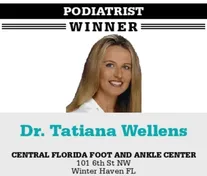 Dr. Wellens won 1st place in the Best of Central Florida contest by the Ledger. We are very honored and thankful for this award. Thank you for voting us the Best Podiatrist in Central Florida.
Dr. Wellens wanted to especially thank the Lakeland Ledger for adding the podiatry category last minute and a special thanks to Bruce for doing that for us.
Most of all a special thanks to all our patients throughout Florida and beyond. We wouldn't be here without you trusting us with your care. We also want to give a special thanks to our fellow doctors that also trust us when caring for your patients.
This has been an exciting year for us at Central Florida Foot and Ankle Center and we are thrilled to be the only ones in Central Florida to perform several new noninvasive procedures.
We have so many great doctors and businesses in Polk County and we are honored for the opportunity from the Lakeland Ledger to showcase all of us together in one room.
Thank you very much.
---
We offer the latest technology in diagnostic studies and our office is the only one in Polk County to offer PSSD testing for peripheral nerve problems. Once you have familiarized yourself with our practice please visit our
offices
page. We offer 3 convenient locations in Winter Haven, Lakeland, Davenport, FL and serve patients from all over the world including but not limited to Tampa, FL, Orlando, FL and all of Central FL.
More specific information, questions, comments, or other interaction can be obtained by e-mailing us at [email protected] , or by visiting one of our offices. We will be happy to be of any assistance.